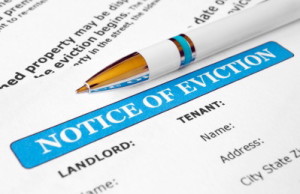 You can get an Attorney-Created Eviction Notice (Notice to Quit, Notice to Vacate, etc.) for your home state by clicking your state's link to the right or below.
If you are on this page because you need to evict a tenant, READ THIS CAREFULLY: Do not just download a free eviction notice from any boilerplate looking site. Doing it cheap can cost you.
You want to make sure that the eviction notice you download is state-specific, meaning it is tailored based on the laws for your state. A basic eviction notice template that is the same for every state is most likely NOT what you need.
Do You Need an Effective Eviction Notice? Find your state to the right or below. There you can learn about the eviction process for your state and find a link to purchase an eviction notice kit containing everything you need to do an eviction in your state.
The eviction forms recommended on this site are created to be specific for your state. You are getting exactly what you need: An effective eviction notice that will get you results.
What are the components of a good eviction notice?
It must be specifically tailored for the state you are in (state-specific)
It must have been created or reviewed by an attorney
It must contain specific language addressing the tenant's non-compliance
It must contain strict wording to let the tenant know you are serious
Good News! All our eviction forms on this site meet these criteria.
Solve your problem today.
If you need to evict a tenant, don't waste any more time. Do it now and do it right.
Click on your state to the right or below to learn your state's eviction process and download an eviction notice form specifically tailored for your state and situation.
Get a Free Customizable Rent Receipt
Customize this Rent Receipt with your Name and Contact Info. Subscribing will also Get You FREE Forms and Tips by Email.