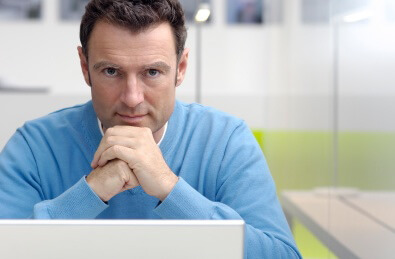 Landlord/tenant agreements should be in writing so that both parties are aware of their rights and obligations. Your Missouri residential lease agreement should be comprehensive so that most foreseeable circumstances are included and the procedures for handling them are carefully provided in the agreement. These include the essential terms of a lease as well as notices, deposits, disclosures and other matters typically found in a lease.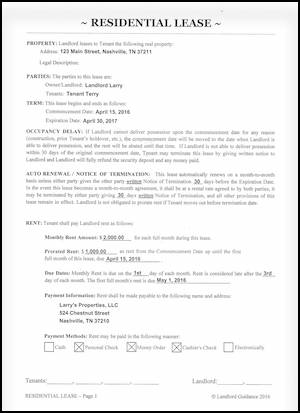 Download This Residential Lease Agreement Form
Use the Button Above or Click here for a Special Offer on This Residential Lease Agreement Form
There are basic obligations for both parties in a landlord/tenant arrangement. A landlord has to provide at a minimum a fit and habitable residence with hot water, heat, electricity and plumbing systems as well as be in compliance with all housing and building codes. A tenant has a duty to keep the premises clean, obey the law, to remove garbage, to not damage the premises and to not disturb other residents.
Further, a landlord cannot discriminate against tenant applicants nor engage in retaliatory measures to force a tenant to leave. You may choose which tenants you want but you may not refuse to rent to someone on the basis of race, religion, color, gender, national origin, familial status or disability.
Essential Terms of a Lease
There are terms in every residential lease that must be included along with others that are optional but recommended. You may not be able to plan for every circumstance or event but there are those that often appear in a landlord/tenant relationship for which you can include in your lease.
Your Missouri residential lease agreement should contain the following terms:
Name of property owner and property manager and address where rent is to be paid as well as where notices and other legal documents may be served
Names of the tenants and other occupants who will be living in the unit
Description of the premises
Term of the lease—weekly, monthly, yearly or other
Automatic renewal clause—becomes monthly when fixed term expires unless otherwise indicated
Amount of rent, due date, and grace period before a late fee may be imposed
Returned check fees—$25 plus whatever the bank charges
Security deposit—limit of 2-months' rent, no interest required
Signed, separate statement of the premises 'move-in condition including list of current damages to be given to tenant
Itemized statement of damages and expenses if deducting from security deposit
Obligations of landlord regarding repairs and maintenance including maintaining common areas and code compliance
Obligations of tenant
Responsibility for utilities
Major appliances that are being provided
No unlawful use of premises by tenant or conduct that constitutes a nuisance
Pet clause—a deposit may be nonrefundable. No deposit is permitted for service animals with some exceptions
Subletting clause—if violated, landlord can double the rent
Right of entry by landlord to make repairs, inspect and show to future tenants or purchasers—3 days' advance notice
Notices regarding termination for nonpayment of rent, if used for the sale or distribution of controlled substances and other lease violations
Notice for increasing rent—30 days unless you state otherwise (may not be for a discriminatory purpose)
Disclosure of the presence of any lead-based paint or hazards on the property for rental property built before 1978—both landlord and tenant must sign an EPA-approved disclosure form and the tenant provided an EPA pamphlet entitled "Protect Your Family from Lead in Your Home."
Disclosure of any knowledge that the premises was once used for methamphetamine production
Need a Residential Lease Agreement? We highly recommend our User-Friendly Landlord Guidance™ Residential Lease Agreement, currently being sold at a discounted price. Click Here for more info.
Prohibited Terms
Though you are free to include terms in your lease regarding the duties and obligations of each party, you may not have the tenant waive rights under laws that are guaranteed or that alter the nature of the rights each party has been granted.
Some prohibited terms or provisions that you may not include in a residential lease include:
Waiver of right to sue landlord for not complying with housing or building codes
Waiver of damages
Taking a lien or security interest on the tenant's personal property
Allowing entry at any time without notice or prior arrangements or shortening the time for notice
Waiving notice requirement for lease violation
Prohibition on joining a tenant's union
Allowing eviction without notice or without court order
Waiver of any section of the law regarding security deposits
These terms are unenforceable and may require you to pay damages to the tenant if they are in the lease and affect the tenant in any manner.
Security Deposits
You may charge your tenant no more than 2-months' rent as a security deposit. There is no requirement that it be deposited in a separate account or that interest be paid to the tenant. It is returnable within 30-days after the tenant vacates the unit.
During the 30-days before the lease expires or either party has given notice to vacate or terminate the lease, the landlord has to advise the tenant of a reasonable time and date for inspection. The tenant has the right to be present during the inspection.
The security deposit is to pay for damage to the premises caused by the tenant or guests that is not the result of ordinary wear and tear. The landlord may elect to keep a portion of it for unpaid rent or utilities, but the tenant may not use the deposit to pay for the last month's rent.
A move-in list of the current state of the unit is not required but recommended. You can use it for a move-out inspection list as well and have it reviewed by the tenant. If you fail to return the deposit within 30-days or provide a written, itemized list of the damages and costs within this time, the tenant may bring an action to recover twice the amount of the security deposit.
Termination of the Lease
A fixed lease term simply ends on the final day so no prior notice is necessary. If you have an automatic renewal clause, it becomes monthly, unless otherwise agreed. If monthly, 30-days' notice by either party is necessary to terminate the lease.
Notice to Tenant
For nonpayment of rent, you may serve an unconditional quit notice requiring the tenant to vacate as soon as possible if you wish, or allow the tenant a time to pay the entire rent. You can begin immediate eviction proceedings if the tenant does not comply.
For other lease violations including use of the premises for criminal activity, you must serve a 10-Day Notice to Quit that can be unconditional or not.
Expedited Eviction Process
Missouri has an expedited eviction process for situations where the tenant has engaged in drug-related activity of any kind or there is an emergency situation created by the tenant that threatens the safety of other tenants or which would cause property damage in an amount that would exceed one month's rent. This also applies to a situation where the tenant invites a person onto the premises who has previously been barred from the leased premises.
Constructive Eviction
Should the landlord not be providing a habitable residence or one where essential services such as heat, water or electricity are provided, the tenant may be able to terminate the lease without further obligation if the court determines the tenant has been "constructively evicted." The tenant must first notify the landlord of the issue and allow a reasonable time to repair the problem. If the landlord fails to do so, the tenant may remain in possession but pay the rent to the court, or abandon the property within a reasonable time.
Repair and Deduct from Rent
For other repairs, the tenant must also request the landlord to repair the condition. If the landlord neglects to repair the condition after a certain time, the tenant may deduct the cost of repairs from that month's rent so long as the tenant meets these conditions:
Has resided there for at least 6 months
All rent has been paid during this time
The repairs must concern a code violation affecting the sanitary, security or habitability of the premises
The repair was not necessitated by the negligence of the tenant
The cost is no more than one month's rent
The landlord has not repaired the condition within 14 days after receiving written notification from the tenant of the code section that has been violated
The tenant may not deduct more than one month's rent in a calendar year
Military Duty
A member of the armed services or National Guard who has been summoned to active duty for more than 30 days can terminate the lease 30- days after the day the next rent is due once notice is given. A copy of the deployment or relocation orders must be submitted to the landlord.
Duty to Mitigate Damages
Missouri law requires landlords to take all reasonable steps to find another tenant if one abandons, breaks the lease and vacates or is evicted. This duty to mitigate is contingent on the landlord's intention to use the security deposit to cover at least portions of the unpaid future rent. The landlord may recover damages caused by the early termination and is not obligated to rent for less than the fair market value. Any amount paid by the new renters is deducted from the remaining rent due from the old tenant. The landlord can recover expenses incurred in advertising the unit.
Missouri residential lease agreements can be complicated. You do have to be aware of your obligations and those of your tenants and to ensure that the tenant is aware of their duties as well. Do not alter or modify any existing laws or local ordinances that apply to the tenancy and carefully comply with all notices and other procedures regarding the lease and applicable laws or you could be subject to damages.
Get a Free Customizable Rent Receipt
Customize this Rent Receipt with your Name and Contact Info. Subscribing will also Get You FREE Forms and Tips by Email.