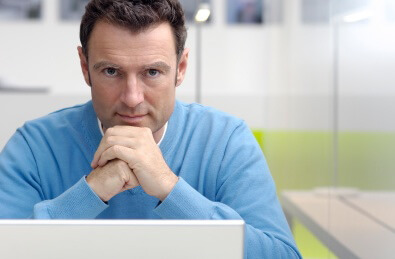 Virginia residential lease agreements are governed by the Virginia Residential Landlord and Tenant Act (VRLTA).
Though a contract between a landlord and a tenant may be verbal, you will want to clearly set forth the rights, duties and obligations of both parties in a written agreement that can be enforced in court. Also, depending on the type of residence and where it is located, local ordinances may apply as well as different provisions according to state laws.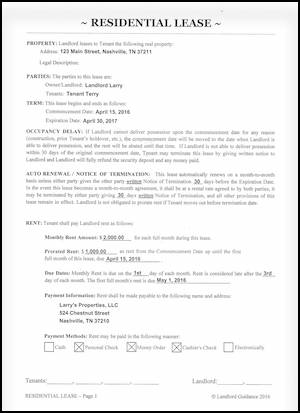 Download This Residential Lease Agreement Form
Use the Button Above or Click here for a Special Offer on This Residential Lease Agreement Form
Single family, townhouses, condominiums and condo rental agreements where the landlord owns and leases 4 or fewer units are exempt from the VRLTA.
Any lease agreement should be drafted carefully and be reviewed and understood by all parties before signing so as to avoid misunderstandings and to ensure everyone is committed to its provisions.
As with any lease, you are prohibited under state and federal laws from refusing to rent to, or to treat tenants differently, based on race, color, ancestry, national origin, familial status, religion, gender or disability. A landlord is also obligated to provide a habitable or fit premises including the basics such as hot water, electricity, heat, sewage, plumbing and smoke and carbon monoxide detectors and to comply with all housing and building codes affecting the tenants' health and security.
Contents of the Lease
You can put anything you wish in your lease so long as it comports with all ordinances, laws and regulations and does not force the tenant to waive certain rights or remedies or allow you to abdicate your obligations under the VRLTA. The inclusion of any prohibited clauses are unenforceable and may subject you to payment of any actual damages suffered by the tenant along with reasonable attorney's fees.
Need a Residential Lease Agreement? We highly recommend our User-Friendly Landlord Guidance™ Residential Lease Agreement, currently being sold at a discounted price. Click Here for more info.
The following are provisions that are either required in your Virginia residential lease agreement or are recommended:
Name of the property owner and landlord and address where the rent is to be sent as well as service of notices and other legal documents—include email address and phone number where the landlord may be contacted
Names of the tenants, email and phone number
Description of the premises
What furnishings are provided including parking spot, if any
Lease term—indicate if it renews automatically to month-to-month or if a new lease has to be signed
Amount of monthly rent, due date and grace period before late fee is applied and amount of late fee
All tenants are jointly and severally liable for the entire rent
Fees for returned checks–$50 plus attorney's fees
Who is responsible for the utilities
Within 5-days of the start of occupancy, provide tenant a detailed checklist of the premises and its condition who then has 5 days to object to anything on the list or it is presumed accurate—at end of lease, both parties to mutually inspect the premises and if damage is found, to allow the tenant an opportunity to repair the damage or have it deducted from the security deposit
Security deposit—may be up to 2-months' rent–include procedure for return
Landlord and tenant's obligations regarding maintenance of the premises
Right of Entry by landlord to perform repairs and to show unit—24 hours minimum–and that tenant may not unreasonably deny entry
Notice of 48-hours if pesticide is to be used to spray unit
Pet clause—may not deny persons with disabilities a service animal
Landlord remedies—required notice to tenant if the lease is breached and time to allow tenant to remedy a breach
Tenant remedies—required notice to landlord if repairs are needed or an unsafe condition exists and landlord fails to abide by obligations to repair and maintain
Subletting provision—if allowed, advise tenant that he/she remains responsible for rent and all other terms and conditions of the lease
Renter's or damage insurance—you may require the tenant to have insurance to protect the tenant's personal property
No commercial activities allowed
No illegal or unlawful conduct
Prohibit disorderly conduct or conduct that is offensive to other tenants such as loud music
Mold disclosure if found in unit
Methamphetamine disclosure—if unit was previously used to manufacture methamphetamine and has not been cleaned according to guidelines
Military zone disclosure—if the premises is within a noise or accident potential zone as indicated on an official zoning map—tenant may terminate lease within initial 30-days of the lease
Disclosure of the presence of any lead-based paint or hazards on the property for rental property built before 1978—both landlord and tenant must sign an EPA-approved disclosure form and the tenant provided an EPA pamphlet entitled "Protect Your Family from Lead in Your Home"
Disclosure of defective drywall that has not been remediated
Security Deposits
No security deposit may be more than 2-months' rent. Interest is to be added if the tenant has occupied the unit for at least 13-months with continuous occupancy at a rate that equal to 4% below the Federal Reserve Board discount rate as of January 1 of each year. Security deposit rules are inapplicable to single family residences whose owners are natural persons and who own no more than 10 single family residences subject to a rental agreement. There is no statute requiring a landlord to deposit the funds in a separate bank account.
You have 45 days to return the deposit to the tenant after the unit has been vacated. The tenant has a right to be present during a final damage inspection and allowed to repair any damage in lieu of having it deducted from the deposit. Damage does not include ordinary wear and tear or natural deterioration.
If terminating the lease, you must state in the notice if you are going to deduct any portion of the deposit for unpaid utilities that were the responsibility of the tenant.
Termination of the Lease in Virginia
If a tenant wishes to vacate at the end of the lease, then proper notice must be given if the lease states that it will be automatically renewed. This applies to the landlord who does not wish to renew the lease with the tenant.
For a yearly lease, the notice is 3-months before termination
For month-to-month, the notice is 30-days
For a weekly lease, notice is 7-days
You can provide for a shorter notice time in the lease for a monthly lease
Termination for Military Service
If the tenant is entering the military or being deployed to active duty and the unit was leased prior to entry or receiving orders, the tenant may terminate the lease with no further obligations provided a 30-days written notice and verification of such service or orders is submitted (tenant is entitled to return of security deposit). The termination date shall be not more than 60-days prior to the date of departure.
Lease Violations
For nonpayment of rent, you must give a 5-Day Notice to Quit before eviction proceedings can be initiated. Full payment of the rent before a court decision cures the violation.
For any other lease violation, you must give a 30-Day Notice to Quit with 21-days for the tenant to remedy the breach.
Circumstances Regarding Victims of Domestic Violence or Abuse
You may not terminate the lease of a tenant who is the victim of domestic violence, though the tenant will need to submit proof of Domestic Violence status from the court. If such a tenant requests that the locks be changed, then you must do so.
Such tenants may terminate the lease upon 30-days written notice to terminate if the tenant has:
Obtained an order of protection and provided a copy to you and,
Given you the termination notice during the period of the order of protection
Or a court has entered an order convicting an individual of criminal sexual assault, sexual abuse or family abuse against the tenant
The termination is effective 30-days after the date when the next rental payment is due and payable after the date on which the notice was given.
Notice of Landlord Entry
You must give 24-hours' notice to the tenant before entry for repairs or maintenance. If the tenant has been absent for 7 straight days, you may enter after giving 24-hours' notice. If you are unsure if the property has been abandoned, then give notice to the tenant regarding continued occupancy. If the tenant does not respond within 7 days, then you may repossess the unit. There are rules on storing the tenant's personal property that is left behind.
If an emergency, landlord entry is allowed within reason.
Renters or Damage Insurance
You may require your tenant to have damage insurance. It is considered rent and the amount of the premiums and the security deposit cannot be more than 2-months' rent when combined. If you obtain the insurance for the tenant, you may charge the tenant for the costs of coverage and recover any costs for the administration of the policy.
If you require renter's insurance that you obtain, this is considered rent as well and the premiums that the tenant must pay along with the security deposit cannot exceed 2-months' rent. If it does, you can add as rent a monthly amount to pay for the premiums. The tenant may obtain a separate policy and you must advise the tenant of the right to do so. In this case, the tenant must provide proof of the policy to you and maintain coverage through the term of the lease.
Withholding of Rent
The tenant may only withhold rent in the event of written notice to the landlord of a condition that constitutes a fire hazard or serious threat to the life, health and safety of the tenants including the lack of electricity or water, a rodent infestation or inadequate sewage disposal. The landlord has a reasonable time to remedy the condition. 30-days from the time notice is received to repair or remedy the condition is considered the limit of reasonableness.
In such an event, the tenant is to pay the rent to the court for a determination. If the court agrees with the tenant, the rent may be used as a set-off to repair the condition or the tenant may choose to terminate the lease.
A Virginia residential lease agreement can be complex and must include certain provisions or you could be subject to damages and liability for injuries to the tenant. Consult with an experienced Virginia landlord/tenant attorney to ensure your rental agreement comports with all applicable local, state and federal laws.
Get a Free Customizable Rent Receipt
Customize this Rent Receipt with your Name and Contact Info. Subscribing will also Get You FREE Forms and Tips by Email.